Atrial tachycardia · AT
Reentry is an underlying mechanism in many cases of atrial tachycardia (AT). Loops of reentrant electrical activation form around anatomical or functional 'holes' in the electrophysiological substrate and dominate the atrial cycle. Terminating such a 'full' loop may cause previously 'suppressed' loops around another hole to become a dominant full loop. Interpretation of electroanatomical maps can therefore be tedious: while a full loop may be identified easily, predicting suppressed loops requires complex interpretation. Here we propose that topological classification may aid identification of suppressed loops in complex AT and improve ablation procedures.
Anatomy and Holes
The anatomy of the left atrium can be topologically described as a closed surface with three orifices ('holes'): mitral valve, left and right pulmonary veins, and similar for the right atrium. Non-conductive tissue may constitute additional topological holes in the substrate. Anatomical reentry may occur around any of the holes described above.
True and suppressed loops
We define two types of reentry. The true reentry, which is a full rotation around a (set of) hole(s) and which will be responsible for the cycle length of the AT. We also define a suppressed reentry as a rotation around a (set of) hole(s) which becomes a true reentry when the original true reentries are ablated.
Unique classification
Therefore, we can uniquely categorize an AT by identifying the number of holes in combination with the presence of full and suppressed loops. The Figure below shows the finite number of possible combinations for three and four holes - where at least one reentry is present. The optimal ablation strategy should terminate the full as well as the suppressed loops, by connecting their corresponding holes.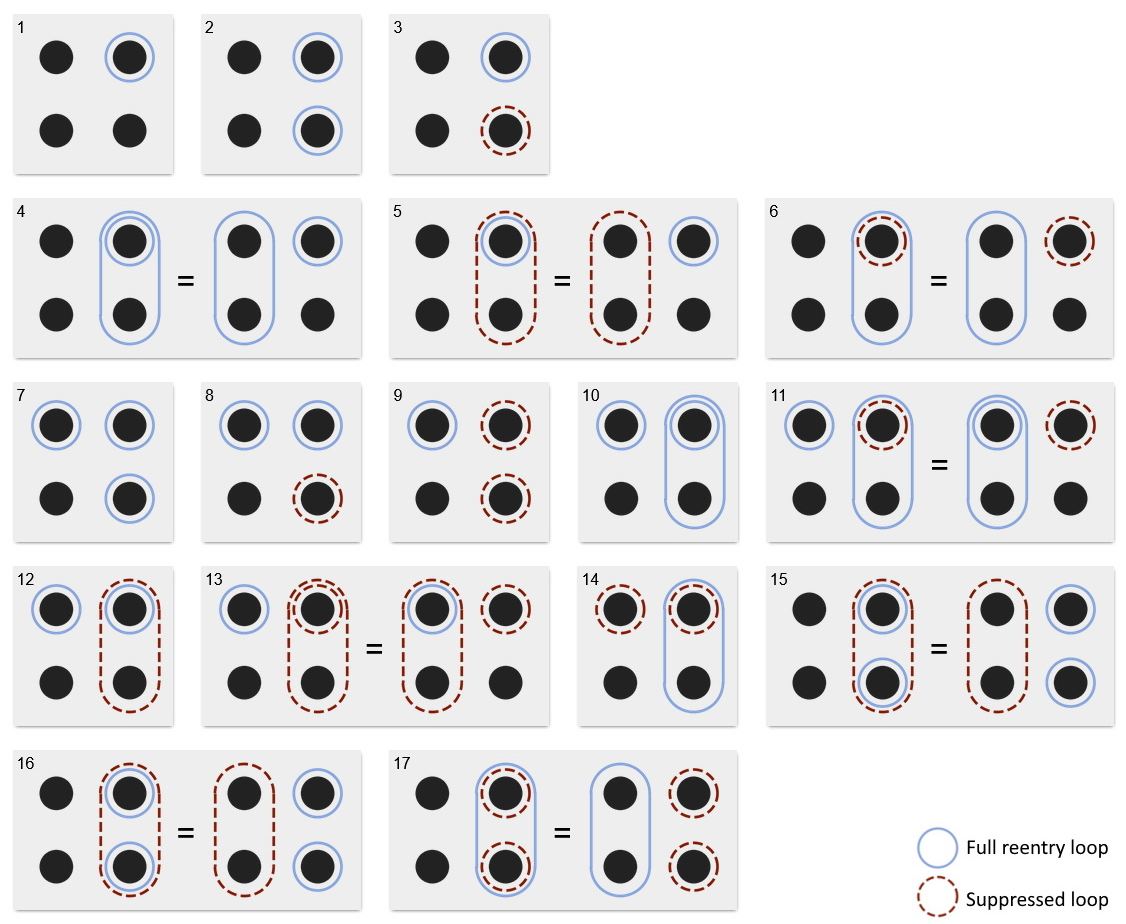 DGM
We extended DGM to perform a topological classification of a given AT. The full reentry loops will correspond to the cycles detected by DGM in the network, while suppressed loops are characterized by a wave propagating around a hole for at least a certain percentage of its circumference (percentage still under investigation). In the Figure below, an example of a suppressed loop is shown.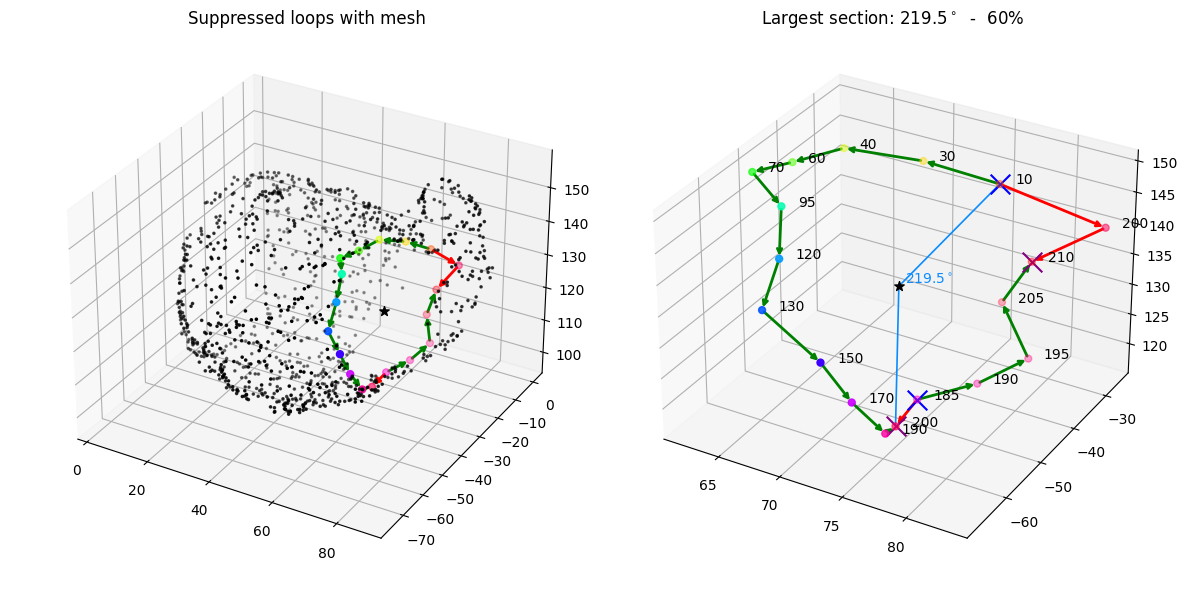 Benefits for the patient
We showed for the first time that suppressed loops play a pivotal role as not ablating them merely leads to slower AT. Benefits include preventing redo maps, shorter and operator independent procedures, and possibly reducing AT recurrence.
Clinical proof
Our work on AT is performed in collaboration with Prof. Mattias Duytschaever and Prof. Sebastian Knecht from the hospital AZ Sint-Jan, Bruges, Belgium, who work with the CARTO system (Biosense Webster) and Dr. Armin Luik and Ing. Annika Haas from the Städtisches Klinikum Karlsruhe, who mainly work with RHYTHMIA (Boston Scientific). We have analyzed over 110 clinical cases and our results will soon be submitted as a scientific paper.
Previous work
In previous work, we analyzed the true loops of complex ATs 2 3. Also, an editioral was written on the possible promising new apporach of DGM*.
[*] Atrial Tachycardias After Ablation of Atrial Fibrillation: A Better Mousetrap?